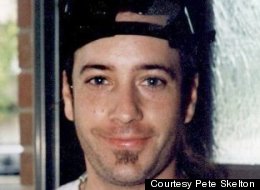 Cody Skelton took his own life while he was
supposed to be on suicide watch.
Thomas Cody Skelton drowned himself in a toilet because the staff at a mental ward checked on him just once in 4 hours, his father claims in court.
Milton Larry Skelton sued Guardian
Health Care Providers
dba The Guardian Group, on his own behalf and for his late son, Thomas Cody Skelton, in Davidson County Court. He seeks $2.5 million in damages for negligence.
Skelton claims his son "appeared happy" at Thanksgiving in 2011.
"However, on Monday morning, November 28, 2011, his family noticed a change in him, as he was trying to harm and physically injure himself," the complaint states. "After Cody Skeleton's attempt to pluck his eye out, his family called the police and paramedics soon arrived to transfer Cody Skelton to Southern Hills Medical Center for treatment."
A doctor at Southern Hills had Cody involuntarily committed to Meddle Tennessee
Mental Health
Institute, the father says: "Cody Skelton was ... transferred from Southern Hills Medical Center to Middle Center at approximately 2:00 p.m. on November 28, 2011 due to his acute psychosis and inability to control his dangerous impulses to injure himself with verbal threats of violence to himself."
He says his son was admitted to Middle Tennessee Mental Health Institute with the observation that he was "'actively homicidal and suicidal' with auditory and visual hallucinations."
"Unfortunately, Cody Skelton did not get the care, observation and attention he desperately needed," the father says.
"Cody Skelton needed high level observation. However, Cody Skelton had an inadequate level of observation by the staff employed by Guardian that was below the standard of care. ...
"Guardian employees failed to observe Middle Tennessee Health Institute's own policies and orders requiring that Cody Skelton be monitored and observed at least every fifteen minutes.
"At approximately 1:45 a.m. on November 29, 2011, Cody Skelton was found by staff face down in the toilet, a shower curtain wrapped around his neck and around the commode. A blanket was wrapped around the doorknob of the bathroom. Cody Skelton had hung himself with the shower curtain and drowned himself.
"Cody Skelton was found to have no pulse. CPR was initiated and Emergency Medical Services called.
However, their efforts to resuscitate him were unsuccessful. It was too late to save his life. Cody Skelton was taken to Summit Medical Center where he was pronounced dead on November 29, 2011 at 2:35 a.m.
"The autopsy report indicated that his cause of death was drowning from suicide.
"The last time it was noted in the medical records that Cody Skelton was checked on prior to being found was 9:30 p.m. on November 28, 2011, approximately four hours before he was found dead."
The father is represented by Matthew Hardin, with Rudy, Wood, Winstead, Williams, & Harden.