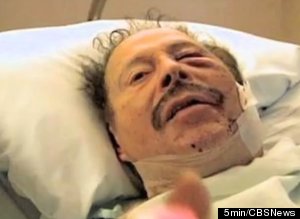 A 90-year-old man who shot a robbery suspect is now being sued by the accused burglar.
Back in January, Sam Cutrufelli allegedly entered the Greenbrae, Ca., home of 90-year-old Jay Leone and began robbing the senior citizen at gunpoint. At one point, police say, Leone convinced the suspect to let him use the bathroom, where he hid his own guns, and the two then exchanged gunfire.
Leone shot Cutrufelli three times before the two men began to wrestle each other. Eventually, Cutrufelli allegedly attempted to shoot Leone in the head, only to realize he was out of bullets.
The invader then ran from the home, and he was eventually charged with attempted murder, burglary, robbery and firearms offenses by a felon.
Now, Cutrufelli, 31, is suing Leone for causing him "great bodily injury, and other financial damage, including loss of Mr. Cutrufelli's home, and also the dissolution of Mr. Cutrufelli's marriage," according to SourceNewspapers.com.
Cutrufelli is near the end of his criminal trial and could face life in prison if convicted. If he is acquitted, his lawyer, Sanford Troy, believes his client's suit against Leone will be successful, but said if his client is convicted, he might suggest dropping the suit.
"All of the people that are commenting believe Mr. Cutrufelli is guilty," Troy told the Marin Independent-Journal. "And that's not the American system of justice. They're entitled to their opinion, but Mr. Cutrufelli is entitled to the presumption of innocence."
Leone believes the lawsuit is ridiculous.
"He's the one who busted my door in," Leone said, according to the New York Daily News. "I'll just countersue him then. That's what I'll need to do."
Leone isn't the only one. Two legal experts contacted by the Marin Independent-Journal expressed doubts that Cutrufelli could win his suit based on the facts as presented by the prosecution, and one predicts it could be thrown out before it ever goes to court.
Cutrufelli's lawsuit is scheduled for a case management conference on March 13, 2013.