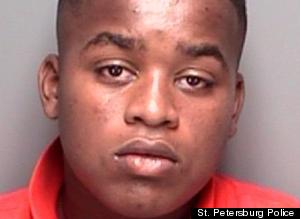 U.S. Marshals in Florida arrested one of their most wanted suspects this week -- a 14-year-old male accused of robbery and murder.
The boy, Franco Harris Thomas, is charged as an adult with first-degree murder for the July 8 strangling of 20-year-old Jeremy Myers, according to the St. Petersburg Police Department.
On Tuesday, authorities raided the house where family members were allegedly hiding Thomas. The boy attempted to flee, but was apprehended before he could escape, ABC Action News reports.
Police have described the murder of Myers -- who was studying music and business at St. Petersburg College -- as "heinous," according to the Tampa Bay Times. Harris and his two alleged accomplices "beat [Mysers] with a shotgun, choked him until he passed out and stole his car, wallet and cell phone," the newspaper reported.
According to authorities: "St. Petersburg detectives and U.S. Marshals are continuing to investigate the actions of those individuals who may have been complicit in helping Thomas flee the area, gave him aid and hid him from authorities, however no charges have been filed in that regard as of yet."
Thomas will face charges in Pinellas County, according to WTSP.
His two co-defendants -- Brittany Detwiler and Scionti Hill -- have also been arrested. Detweiler and Hill, both 16, are also charged as adults.