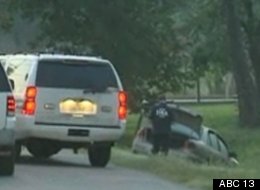 A would-be thief stopped in his tracks on Monday when he found a human body inside the trunk of the car he was about to rob.
Houston police say the body of Donald Michael Lapointe, 28, had been shot in the chest, Click 2 Houston reports. Lapointe's face had been severely beaten, and a bag of pills was hidden in his underwear.
The car containing Lapointe's body was spotted around 4 a.m. by a passing motorist, whose name has not been released, according to KTRK. The motorist told officials he was driving down the freeway with his wife and baby when he saw the car in a ditch, and he decided to take a look to see if there was anything worth stealing inside.
The aspiring robber says he called police when he opened the car's trunk and, instead of valuables, found a dead body.
Investigators believe Lapointe's death was a murder, and may have been drug-related.
The Houston Chronicle reports that the man and woman who discovered the body are not suspects.