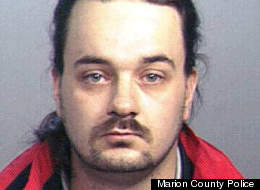 Rodney Denk, 40, was charged in the 1989 murder of
Amy Weidner.
On Tuesday an Indianapolis man was arrested and charged with the 1989 murder of 16-year-old girl.
Rodney Denk, 40, has been charged in the murder of Amy Weidner, who was beaten, sexually assaulted and strangled in front of her two-year-old daughter in her home on Nov. 13, 1989,
reports WISH-TV 8
.
Now, more than two decades there is finally a break in the case. A palm print obtained from Denk after a 1997 arrest was found to be a match for the bloodied palm print found on the wall at the scene of Weidner's murder, Prosecutor Terry Curry told the TV station.
At the time of the murder, then-17-year-old Denk was a classmate of Amy's older brother John-Paul, a family friend and frequent visitor to the home even after the murder,
reports The Indianapolis Star
.
"I feel sick to my stomach," the victim's mother Gloria Weidner told the paper. "I don't understand closure, but this doesn't feel like it. I never, ever would have suspected him as a person the police would be interested in."
According to police, after the murder there were numerous suspects investigated, but no one could be linked to Amy's death, and Denk, who was then just a teenager himself was never a suspect.
The break in the case came in the last month after police began to re-interview the Weidner's neighbors, who suggested they speak to Denk. Police were scheduled to interview Denk on Sunday, but he never showed up. According to the paper, a missing-person report had been filed by Denk's girlfriend after he missed three days of work.
On Monday, police found and arrested Denk, but the case is not as open and shut at it might seem. Investigators told the paper that there is still a second suspect at large, as semen was also found at the crime scene, however, it is not a match for Dent.
"There are continuing aspects of this investigation," Curry said at a news conference on Tuesday, but would not comment on the whereabouts of the second suspect. Denk's first court appearance is scheduled for Thursday afternoon, and is currently being held at Marion County Jail without bond.