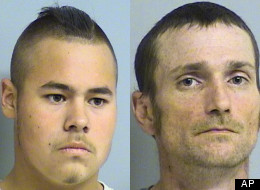 Jake England and Alvin Watts, Tulsa shooting
suspects, have been charged with murder and
committing a hate crime.
OKLAHOMA CITY -- Two men accused of going on a shooting spree that terrorized Tulsa's predominantly black north side face murder and hate crime charges, prosecutors said Friday in an announcement praised by community leaders who had called for swift action by authorities.
Jake England, 19, and his roommate, Alvin Watts, 33, each were charged with three counts of first-degree murder, two counts of shooting with intent to kill and five counts of malicious harassment, prosecutors said. The harassment counts allege the victims were targeted because of their race.
"I think that it's an embrace, a symbolic embrace of the serious nature of the crime," said Democratic State Rep. Seneca Scott of Tulsa, who attended a Friday meeting with area ministers and the
Rev. Jesse Jackson
. "Sad as it is, it's a real victory for justice."
Jackson planned to stay in Tulsa for a community gathering Saturday, while the Rev. Al Sharpton announced after the charges were filed that he would cancel plans to travel to the city for a Sunday rally but would visit with victims' families another time.
Police say England and Watts, arrested early Sunday after a two-day manhunt, have confessed and appeared to have chosen five random victims. Three died and two others were wounded. All the victims were black and police have said one motive might have been England's desire to avenge his father's fatal shooting by a black man two years ago.
Defense attorney Clark Brewster, who said he has agreed to represent England at the request of England's mother, said Friday that it's "a misplaced premise that he was motivated by any racial hate."
Brewster said "the facts that people are throwing about" need to be proven in court. He said how England pleads will depend on where the case stands at the point when he's asked to do so, which could be several weeks away.
Court documents do not list an attorney for Watts and efforts to reach him by phone at the Tulsa County Jail, where both men are being held without bond, were unsuccessful Friday. Both men are to be arraigned Monday.
First-degree murder is punishable by death or life in prison in Oklahoma. Prosecutors said decisions about whether to seek the death penalty are usually made after a preliminary hearing. A first conviction under the state's malicious harassment law – which applies in cases where a victim is specifically targeted because of race, religion, ancestry, natural origin or disability – carries up to a year in jail.
"Filing charges is the first step to obtain justice for the victims and their families," said Doug Drummond, Tulsa County First Assistant District Attorney. "This is a tragic and senseless crime."
Documents filed with the charges said anonymous callers to a police department hotline before the men were arrested claimed England was a racist who hated black men and that he "has mentioned he will die in a shoot out with the police if he has to." England's family and friends have said the death of his father and his girlfriend's January suicide sent him into a downward spiral.
England's father, Carl, was fatally shot in 2010 by a black man who had threatened Carl England's daughter. After tracking down Pernell Jefferson, the men fought and Carl England was fatally shot. Jefferson was not charged with homicide because an investigation determined he acted in self-defense.
The Easter weekend shootings had gripped Tulsa's black community with fear. Quick arrests relieved many residents and ended talk of a vigilante response, but community leaders were firm in calling the shootings a hate crime.
Jackson attended the Friday funeral for one of the victims, Bobby Clark, before meeting with a group of ministers and elected officials at First Baptist Church of North Tulsa later in the afternoon, the Rev. Anthony Scott said. Jackson planned to stay in Tulsa through the weekend to attend a community worship service at the church Saturday and Sunday morning services, Scott said.
Sharpton, who had planned to attend another rally Sunday at Greater Union Baptist Church, issued a statement saying he's glad the charges were filed and that he would now stay at his
National Action Network
's weekend convention in Washington, D.C., to fundraise.
"I was scheduled to be in Tulsa this weekend but now feel that I can be more useful to the families of the victims to remain at my national convention and raise money for them," Sharpton said.
Sharpton said he would kick off a fundraising drive with $1,000 from the network for the families of each of the three people killed.