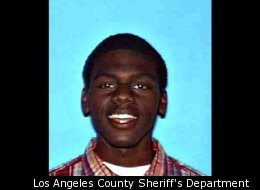 An undated photo of Elgin Stafford released by police.
Authorities in California have positively identified the body found floating in a river channel last week as Elgin Stafford, a former intern of Los Angeles's U.S. Rep. Karen Bass (D-Calif.). A cause of death, however, has not yet been released and investigators have yet to determine how the young man wound up in the waterway.
"The case is still under investigation and we are not allowed to discuss it at this time," a spokesman for the Los Angeles County Department of Coroner told The Huffington Post Tuesday.
A passer-by found Stafford's body floating in the Dominguez Channel in Carson on Thursday afternoon. The Los Angeles County Sheriff's Department and the county fire department pulled the body out of the water. The advanced state of decomposition of the body made it impossible for authorities to immediately identify the remains.
Stafford, 23, grew up in Carson and was raised by his parents, who had previously emigrated to the U.S. from Sierra Leone. After graduating from Carson High School and then UC Berkeley, Stafford enrolled in a public policy program at the
University of Southern California's
Annenberg School for Communication and Journalism in Fall 2011. Stafford was working on a master's degree in public diplomacy. For reasons not yet known, he withdrew from the school in January.
"We are very sad to learn about the death of Elgin Stafford. He was an important member of the Trojan Family and our hearts and prayers go out to his family," said Michael Jackson, Vice President for Student Affairs at Annenberg.
"Every student is very precious to us and has great potential," Jackson said. "We are sorry that Elgin's life journey has ended in such a tragic way. We will do our best to support his family, friends and the Annenberg school community during this difficult period."
According to Rep. Bass, Stafford interned for her last summer. On Monday, she posted a condolence message on her Facebook page.
"Elgin was extremely dedicated to his work and brought energy and enthusiasm to every task he was assigned. ... It was extremely difficult to learn of his disappearance and later of his untimely death. My heart goes out to his family and I will continue to keep them in my prayers," Bass wrote.
The sheriff's department said Stafford was last seen alive on March 20, when he left his Carson home at 5:30 a.m. After Stafford's family reported his disappearance, a missing person bulletin deputies distributed stated he had no known medical or psychiatric issues, "but had recently been exhibiting erratic behavior." The bulletin did not elaborate further.
Several local media outlets have reported authorities do not suspect foul play in Stafford's death, but contacted by HuffPost Tuesday, authorities said they have yet to make that determination.
"Detectives are still investigating the circumstances," a sheriff's spokesman said.