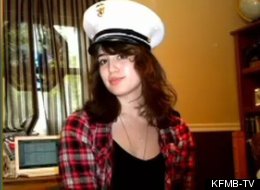 San Diego Sheriff's deputies say a suicide note
written by murder suspect Jessica Lynn Lopez led
them to a place where they found a body that may
belong to Brittany Killgore who disappeared last
Friday in San Diego.
Investigators in San Diego County say they have arrested a second suspect in the case of Brittany Killgore, a missing 22-year-old woman last seen in San Diego on Friday.
The suspect, Jessica Lynn Lopez, 27, left an apparent suicide note in her motel room that authorities said indicated what happened to the 22-year-old Fallbrook woman and where her body was located, 10News.com reported.
A female body was found by a road worker in Riverside County near Lake Skinner, on Tuesday, according to NBCSanDiego.com.
Although authorities could not say whether the body was Killgore's, San Diego County Sheriff's Department Capt. Duncan Fraser told 10News.com that Lopez' arrest provided officials with the leads that led them to the body.
Lopez was taken into custody at a San Diego motel and was expected to be booked on suspicion of murder.
Captain Fraser declined to discuss Lopez's alleged connection to the case, but told news crews the suspect had been admitted to UCSD Medical Center under guard and was expected to be booked on a murder charge upon her release,KFMB-TV reported.
Lopez's arrest comes two days after the arrest of another suspect, Louis Ray Perez, 45, who was the last person seen with Killgore.
He was arrested Sunday on an unrelated charge of possessing a AR-15 rifle stolen from Camp Pendleton and remained jailed on $500,000 bail. Perez has refused to cooperate with investigators, who say he is being "actively investigated" in the case.
San Diego Sheriffs spokesman Lt. Larry Nesbit said that investigators have questioned Perez about Killgore's disappearance, but he was not cooperative.
"Based on the totality of the circumstances -- the fact that (Kilgore) is in constant contact with her friends, she has not been heard from since Friday, the fact that Mr. Perez was less than forthcoming in his interview with us, we believe there is foul play involved in this case," Nesbit told KTLA-TV.
Killgore, a 5-foot-7-inch, roughly 130-pound brunette with brown eyes, was wearing a dark-purple evening gown with shiny floral patterns at the time of her disappearance, which occurred a few days after she filed for divorce from her husband Lance Cpl. Cory Killgore, a Camp Pendleton-stationed husband reportedly serving a tour of duty in Afghanistan.
Among the suspicious circumstances in the case was the fact that her cell phone was found by trolley security guards in the Gaslamp District of downtown San Diego, even though investigators do not believe she had gone there herself on the night she vanished.
Cpl. Killgore is reportedly coming back to California on emergency leave as authorities try to determine whether his estranged wife met with foul play, but a neighbor of the couple, Simeon Pagdilao, said he told Cpl. Killgore that he thought Brittany Killgore may have been unfaithful.
"I told him, when I went to go see him, that there was noises upstairs that my wife was hearing at night and she thought he was still there, and then we found out that he was actually deployed," Pagdilao told KFMB-TV.
Authorities have said Killgore is not suspected in the disappearance of his wife.